Hey friend,
Today I will guide you use a tool – It help you become a master in any field, you absolutely get more identified "full experience" with the development of the core content in Home your problem, without requiring you to one skilled in the research, analysis, statistics, because this tool has done all the work for you.
You can be self-produced content "delicious" for your blog, your website and do a lot more than that, you will be able to analyze the topic 1 correctly, the type of content that brings high efficiency , field experts that you should follow or contact cooperation.
This tool is Buzzsumo – one tool of  Top Tools Help Make Content Marketing Effectively, along with everyone's marketing thinking, I believe, this tool is really powerful tool to help you win in the game called "Content Marketing".
Ok now , Let's start!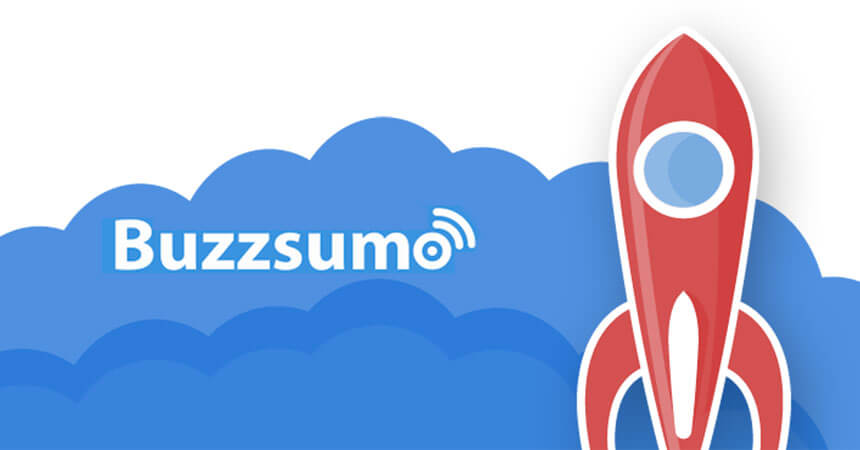 Discover interface Buzzsumo.
Before going into the details of each feature guide, you should look at the general interface of this tool a bit for easy capture comprehensive features.
This is a tool used entirely web-based online, first, you need to log in Buzzsumo.com homepage, where you register an account to use the Free Trial 1 (free trial), with the non-use more then you can also stop at this free version is sufficient, but it will limit searches per day (3 times) , and further limits on advanced data analysis as well as export data.
After a successful registration, you can access the interface and see Buzzsumo as follows:
1.Content Research : With Tab Content Research,  Buzzsumo offers a lot more features to small you almost can do everything with the study of the exact content of the fields you're doing.
2.Influencers : Tab Influencers allows you to find, filter out those who are influential in your Niche, it could be the Bloggers, Experts, Journalists, Influencers, … that you can follow, or if you do SEO  WhiteHat you should particularly interested in this position to be able to find objects to build backlinks Outreach
3.Monitoring: if you ever know the tools through Google Alerts, this feature is similar, but there are even better ones, I will introduce it after applying with you always 😉
Ok so this overview of the tools you have mastered, I started going on how to use each feature.
2. Refresh content with the "Trending Now"
If you want to make money with blog , content will be important .To attract traffic to the website, you must have access to the 'Hot Topics, called Trending (trends) in that subject.
For example  you have a website about basketball , at which point your desired traffic will be the fans of this sport, so you have to have content that you know that they  attention.
Trending Content for Niche as "Kobe Bryant (top athletes of this sport in the United States) declared retired" full of news published in American newspapers about a few hours ago, a few hours later blog Publish content you perspective, your discussions on this issue, you will attract a lot of traffic if you are one of ways to push more traffic from social networks.
This is just one small example that I give so that you can understand how to apply the Hot Trending Content format , but now it is time to explore the features of Buzzsumo.
First in the homepage, the default will be available on the tab "Content Research", in which the tab "Trending Now" is a sub-tab of the Content Research. You click on it.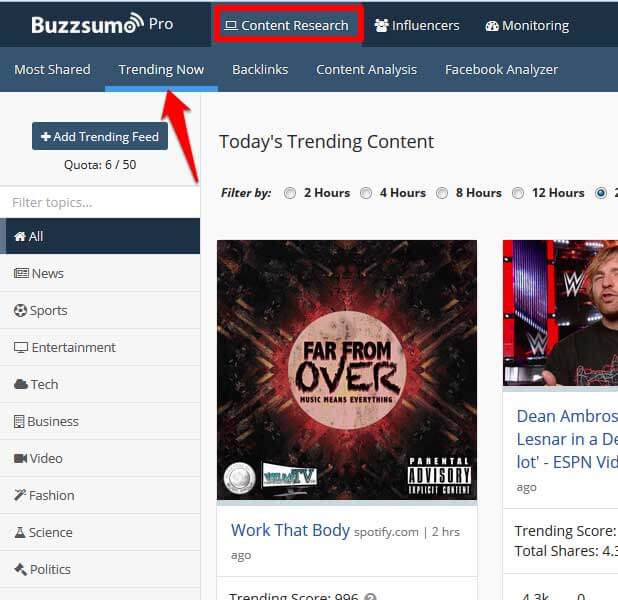 Here would be the interface of all the latest content, trends in all the fields, you look to the left column on the screen interface will see the folder contents by specific (category)
If not selected in one particular Trending Content folder you selected to the All and Most Shared like this, it will return the results will Buzzsumo lot hot topic in each folder:


Now, if the website you are doing in any field, what topics you should use the filters on the left screen folders to filter only are hot topics in the field which, assuming I am very interested and doing things with marketing , I will set filter with marketing.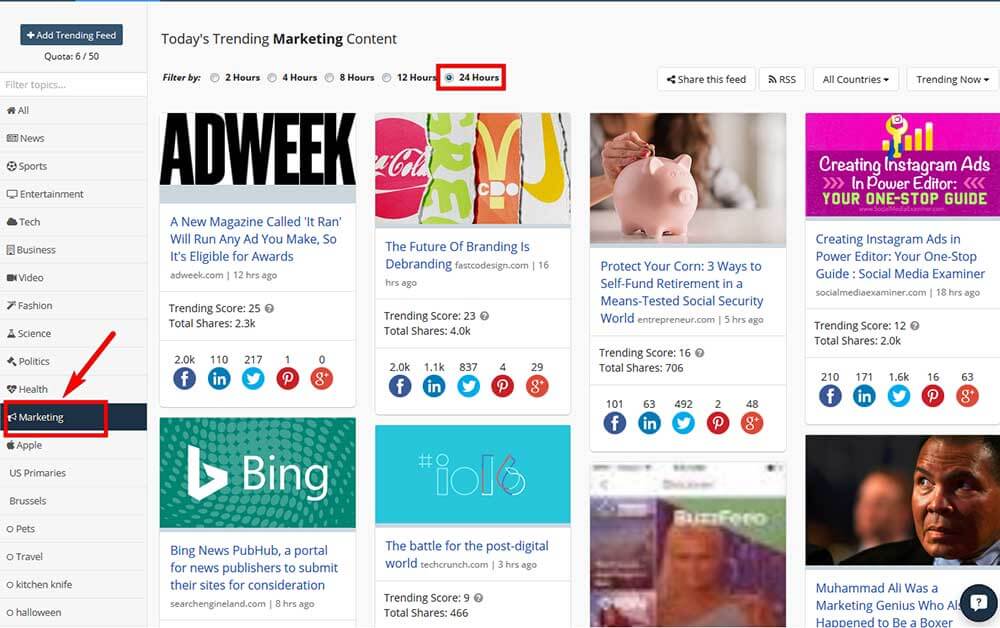 You can see, these are the most hot topic in marketing in the last 24 hours, you can customize the time, there are timelines Buzzsumo like this so you'll always find something new.
3.Full of ideas to create a new Content with "Most Shared Tab"
Next go back home, you will by default be put on the tab "Most Shared" tab of the large "Content Research". I assertion is extremely fun things you get from this category.
Most Shared tab feature Hot Shared Content filtering out, the Content that in any format (Blog post, Article, Inforgraphic, Media, Video …) is more interactive, likes, Shares, comment styles. Full content is generally cool, popular, receiving the most and is widely shared on social networks.
Now I will try it always with a keyword, type in the following keywords "content marketing tips".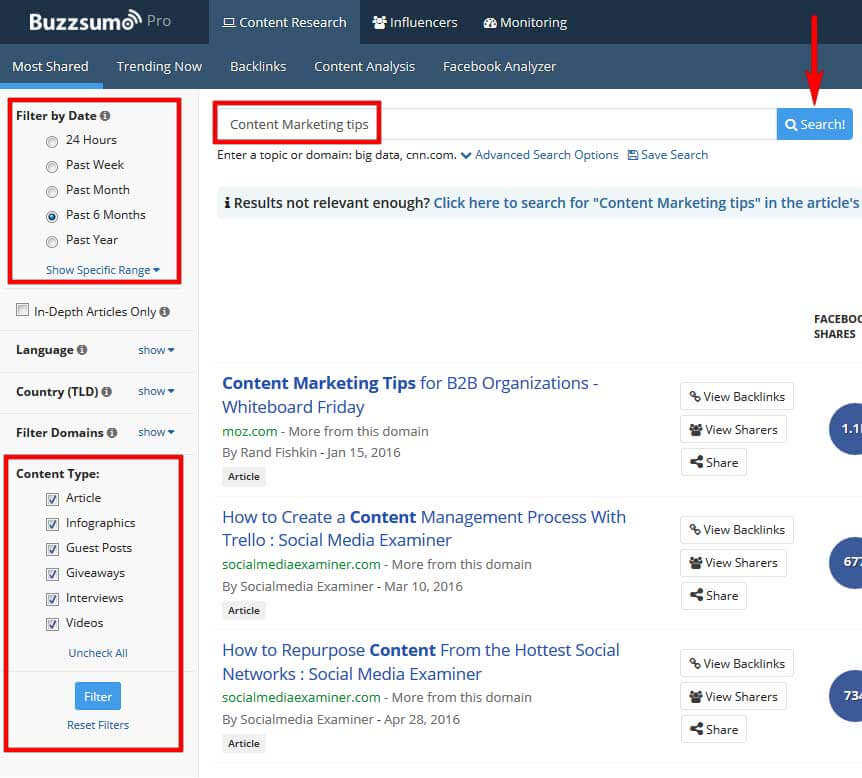 Ok, then click Search, the default in the filter "Filter by Date" Buzzsumo to available is "The Past Year" means a year back, I wanted to look for a new Content suitable so I was 6 months filter. (Even if you want to update the latest variety of topics, you can select 1 month, week or last pass 24 hours)
Buzzsumo allows you to filter out unwanted content format to filter "Content Type", for example if you are looking for ideas on this topic Infographic, you want to refer to this form of Content and to those who have done good they can learn to filter in only selected Content Type "Infographic" only.
Language and Country to choose the language and the country you want , by Domain Filter feature allows you to search for certain Content-themed at a particular website.
For example :
Wait, if only so alone will not see anything too special. You can do more with the search results returned in this Shared Most tab?
Back to my earlier search results when keywords "content marketing tips" :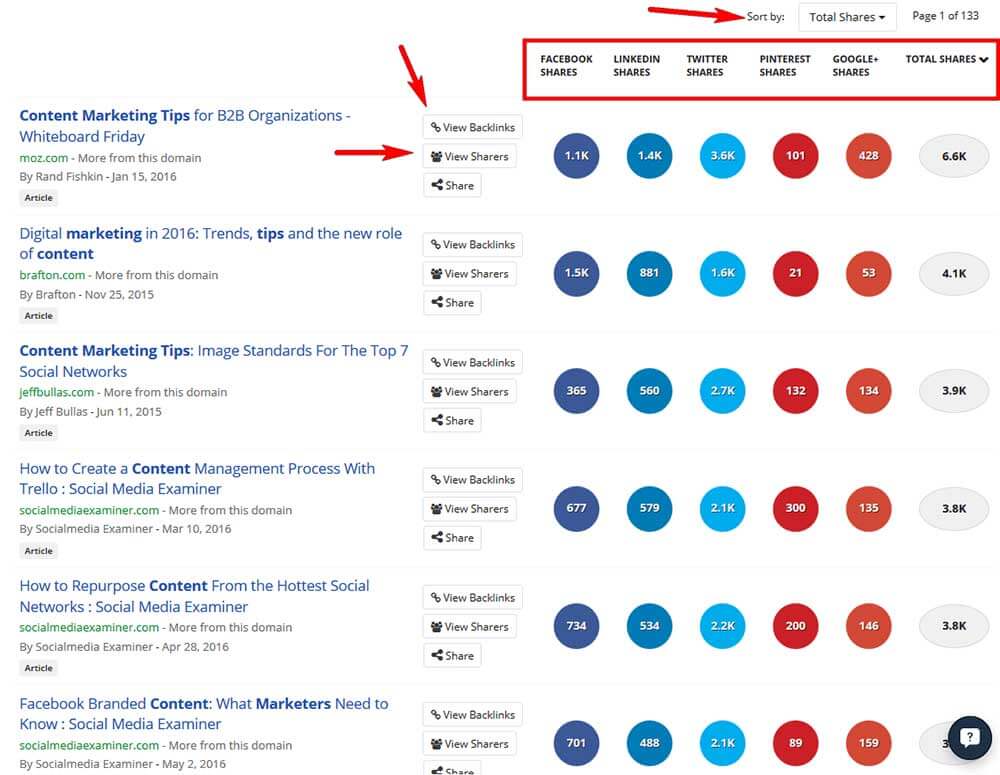 You can see, the results are returned to the Interactive Content with very terrible, with a view Sort by you can pick out any Article Share more in social networks.
Statistical each share, like every social network, you can easily click on each item to Buzzsumo rearranged in order from most to least.
Next to each item one, you will notice followed by two features here it is: "View Backlinks" and "View sharers"
With "View backlinks" you can see how specific domains, the page link to this Content.
Try to check their results from the first page of moz.com you see how many backlinks pointing to this content.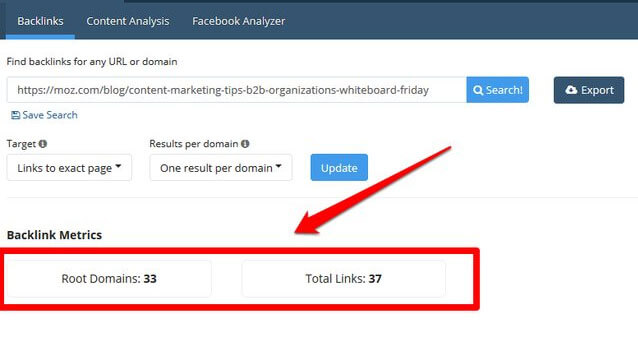 With "View sharers" you will know what specific readers, bloggers or anyone else does it, are those who are interested in this topic and share that post.

With those who share content view, Buzzsumo also give you full information about this sharers, as their website DA, PA how much, how often they operate on such MXH public (mainly Twitter offline , foreigners often use so that you use FB)
Both 2 features, in addition to support you better Content strategy, especially with the current principles of the new SEO, it helps you tremendously in getting access to the market and the potential audience in Niche, this one is quite advanced WhiteHat SEO, so I do not say here.
4. Approaching the influential, the famous blogger.
This feature may have been a little shape from examples "View sharers" in last demo, however, Buzzsumo devoted a large tab "Influencers" is surely no reason.
Discover how!
At Buzzsumo interface, you select the tab "Influencers", the default will jump on the tab "Twitter Influencers" like this here. You type in one keyword (the subject) that you are looking for celebrities in that topic offline.
Test yourself with "blogging guide" to see who is expert in this subject.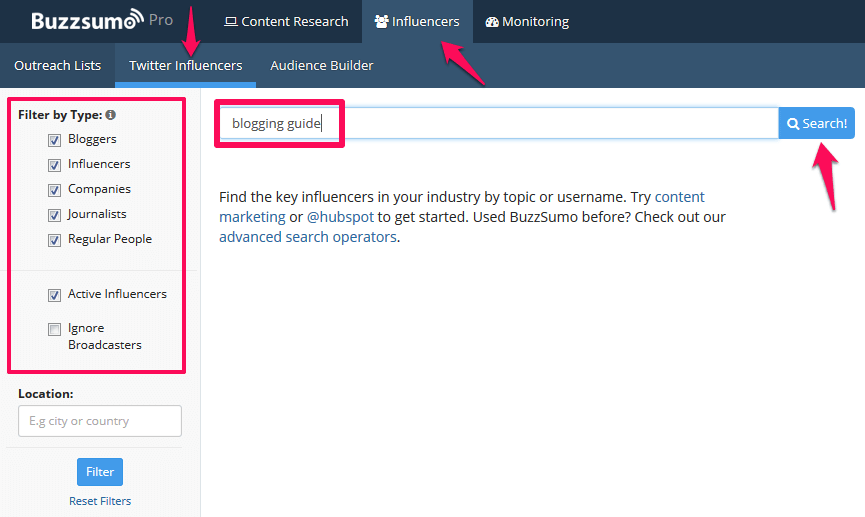 On the left there is a filter to filter out the topics you are there, you want to find bloggers or Influencers or Journalist (up to you, but go on to All)
You will be the result of Influencers in this subject you should like this.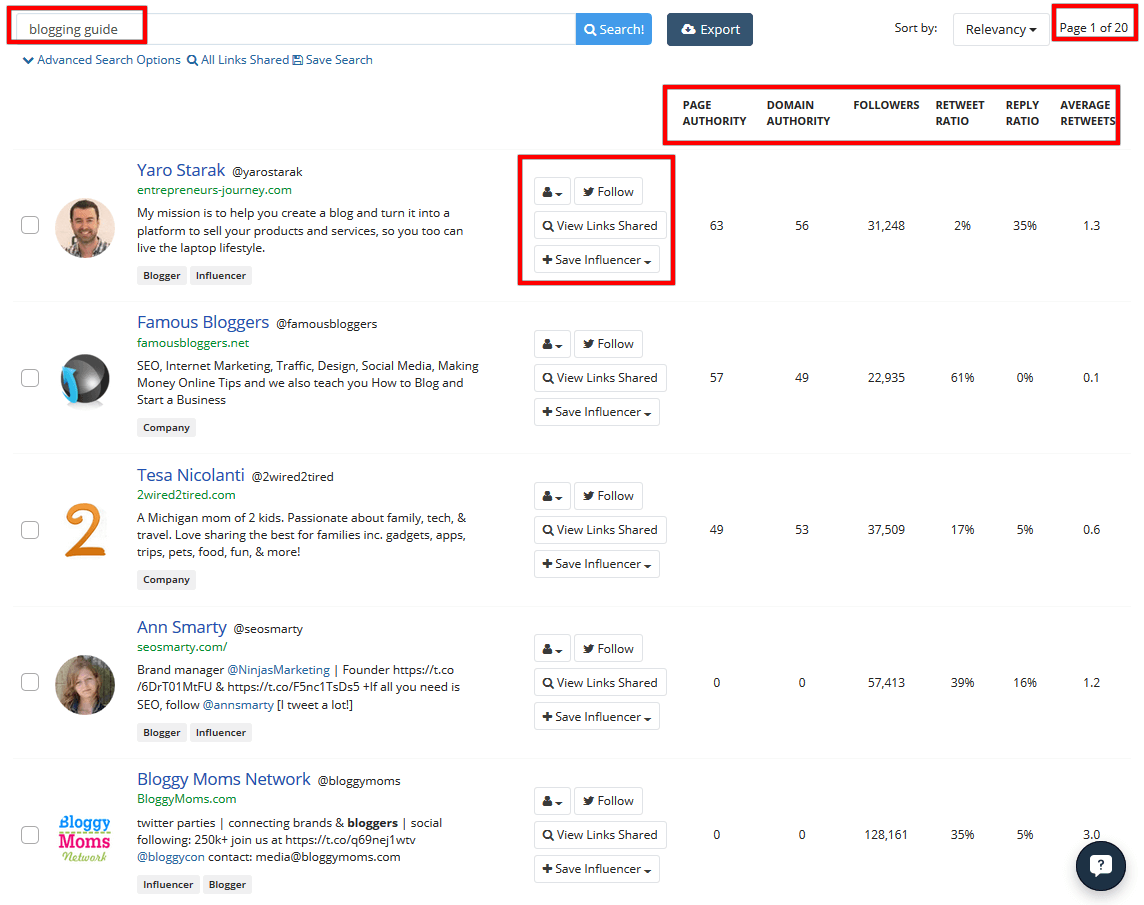 Here, Buzzsumo give you more of the information you need about these people, in addition to Save Influencers feature so you can save a separate list of potential people in the Niche you want to reach.
Buzzsumo information you know about them, such as:
Page Authority
Domain Authority (their website)
People Follower on Twitter
Retweet Ratio – Retweet their frequency.
Reply Ratio – the ratio of their interaction with people
Average Retweet – the average level of these people Retweet.
So this information will help you what you can from it, add to your marketing campaign as follows:
Find Influencers they interact more with people in the Niche, see how often Retweet.
Collocation PA, DA, find opportunities with their Guest Posting.
If you are the Agency, developing options, you can build one list list Social Media accounts of these people, in addition to building strategic relationship.
5.Measurement results Content Marketing for Monitoring
Similar to the operation of Google Alerts style, also features Alert Buzzsumo this for you. You can use it for two purposes: to collect new information and to keep track of your content, your brand is one mentioned.
You select the tab "Monitoring"

Next, select Create New Alert to create new custom Alert your purpose. At this point, you want to create Buzzsumo asks Alert files based on what criteria, with the following choices: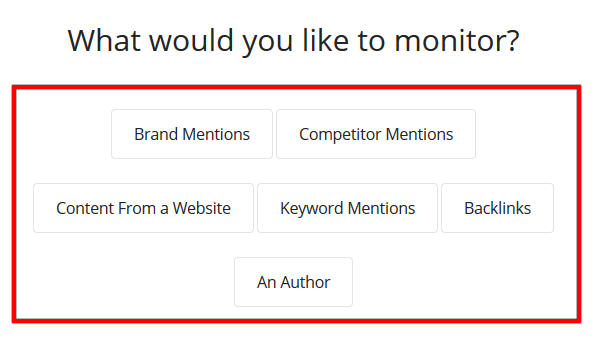 + Brand Mention / Keyword Mention: There will be notified to you when someone mentions Brand or Keyword in your content.
+ Backlinks: Announcement to you when there are links pointing to your Content.
+ Content From A Website / An Author: Buzzsumo will notice when a web site or a particular author you are tracking where they publish new articles.
+ Competitor Mention: you want to track the popularity of competitors, this Alert files keep you grasp those, sources mention your opponent.
6.Publish content more effectively with Content Analysis Report.
You're producing content for keyword 1, and you are want to know the content has been shared how, what type of content to be shared more, share on social networks are crucial, level of interaction with content keywords are, …
Buzzsumo almost give you all the answers on this issue. Try Content Analysis tab now to see the wealth of its utility.
You go here and type in a keyword is the topic you're doing Content

Then click Search and enjoy a super detailed Report that Buzzsumo returned.
Specifically, the following results in order:
+ The first is the Total Shares / Shares avarage

+ Next to the results of the Share by System Networks Networks to see any more on this topic Share, and especially Share by Content Type, you will know what type of Content (Article, Infographic, Video Content …) bring interact with the subject.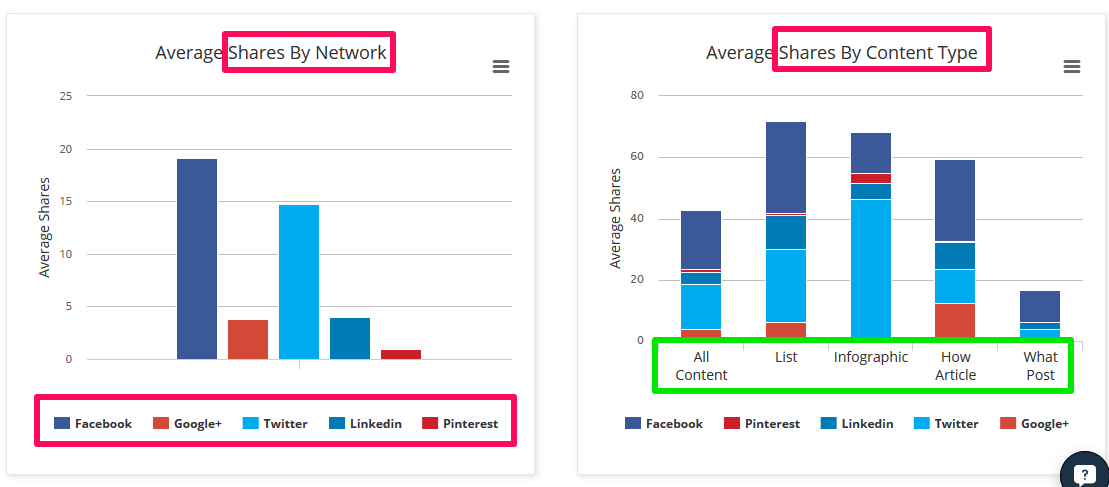 + Next to the statistics of engagement with the criteria is the length Content (Content Length), as shown you can see, the content-length upwards from 3k from interactive attraction like, extremely high share.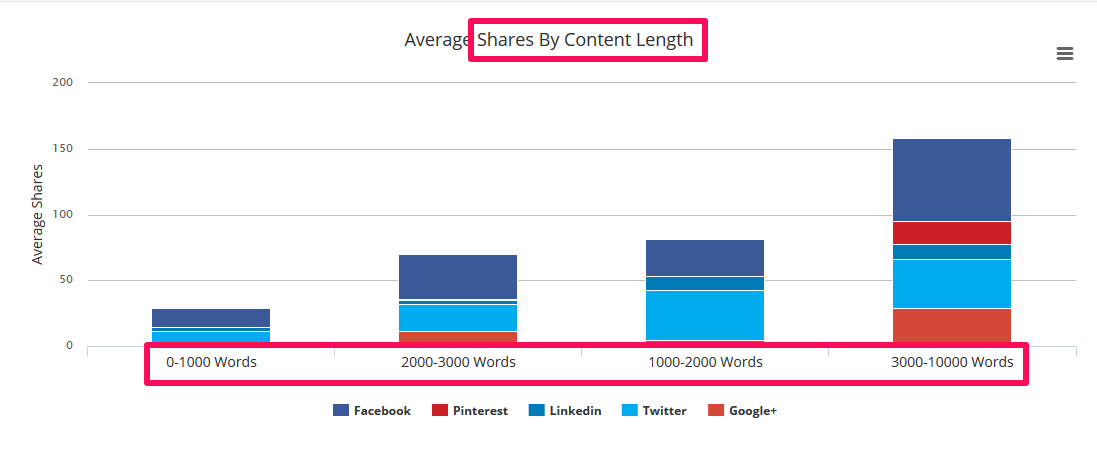 + Once again you can end that is of interest to you 1 Buzzsumo filter out the list of the Top Pieces of Content (the largest share posts) or keyword that you are looking for, here you can go to each one to Page Top Content this reference.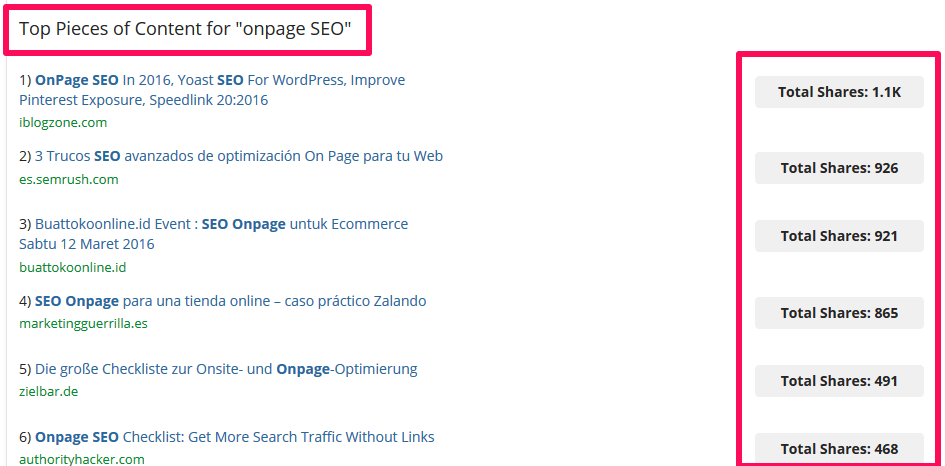 7. Conclusion
Here is how I use to create content. I hope you can help. Thank you for watching