With Content Marketing , your job not only work with numbers and characters but also have to quality and usefull . All of them make we have to headache when write a new article .
However , we can be help by some tools(free or fee) . They help us find information and keywords to make content marketing effectively.
Tell about tools, we have many choose on internet, you can use free tools or fee tools. But for my opinion , you should choose quality tools.
Before writing an article or a certain form of content, if you do not research on what readers want to read, you do not find out what topics to write about. How many people write about this topics? And How? These are if you do not pay attention at the beginning, it's easy to fail
So to help you get the right idea, theme well and produce good content market leader, you need to be very carefully done study stage, I often use the following tools to work research:
1.Support Tool to find ideas, keyword, subject, spy competitor.
I can say this is content marketing support tools that I special like . It have many powerful features . Two main features , I decide use it :
Help find out and analyze the content holding the top position,a leader in your market (including all the content of the opponents the same field with you), content in trend.
Help you find out Influencers in this market which is likely to help you promote Content if you know how.
With 2 main features , whether you're looking for ideas for the content, or coming up with ideas and then that'd make more quality content and promoters looking for quality content you produce, Buzzsumo is the first choice for you.

I had a detailed tutorial A-Z using Buzzsumo to maximize efficiency for Content Marketing, you can add additional references
This is an excellent keyword tools that can help you find the best keywords used in the content.
You can find a number of attractive keywords within 1 month since it analyzes all the programs in your content. Just put in the different keywords that are looking for yourself and you will be able to start the study.
In addition to research keywords on their site, you can download Google Chrome extensions help you study better competitors. Just to rival websites and click on the button of Chrome extensions to the information pop-up. This is helpful when you want to do research quickly, giving you the opportunity to collect a data base.
You can read tutorial A-Z using WORDTRACKER at here
Hubspot
HubSpot is the destination of thousands of Online marketer in the world. HubSpot operation based on the data collected and formed a full funnel through online advertising channels to help you turn your visitors into a customer.

You access the link: http://www.hubspot.com/blog-topic-generator
Then in the current view, the tool requires you to enter 3 keywords related topics to write, you just input and suggestions are or will be returned to you.
Google Keyword Planner & Google Search
These are two tools I use most . Google search has always been  the first address to type in a keyword, topic is to write in and press Enter.
By looking at the first 10 results on page 1, you will get the idea for the article outline and blueprint that will do to the article they have produced superior results than those already there. When pulled down the bottom left page Related Searches more Google will position themselves very much suggests other related keywords.
SEMRUSH
SEMRush is a wonderful program to research and find keyword.It allows you the ability to perform analysis of the keywords that traffic search engines, all keywords with the location details of rank, position changes, check traffic backlinks and even check out the competition. Beside SEMRush will see the natural search results, paid search results and lets users know which keywords can be used in the campaign.
2.Editor, diverse forms of content.
WordPress.
With the strong growth of the WordPress CMS platform and 70% of sites around the world are using this source is that we should use to make a website wordpress beautiful, kind and full-featured utility is highly recommended.
With the current wordpress, had too many plugins support, the responsive themes to create beautiful interface, lightweight for your site.
In terms of features for editing, editor tools available of WordPress enought you can  create a decent post.
If you want to decorate for posts lively, beautiful, frame format with multiple threads, buttons, eye-catching Call to action, they may use the Content Builder tool is very popular at present are:
Thrive Content Builder is a tool that I am using and confirmed it help you increase interaction very good reader, in addition to help you add the Opt-in, Leads Form navigation users.
Visual Content Tools.
Since late 2015, the trend of online marketing is visual content, ie the content form: Videos, Pictures, Animations, Infographic, ….
Human brains are like and prone to eye by the images, colors and motion. Besides producing quality articles from content, you need to pay more attention to the creation of other forms of content integrated in all to increase user interaction.
And according to statistics from the World Digital Marketing professionals, Infographic form content is a form of Visual Content received many plays like, share, interact today.
You can create this content by hiring form designer or if you are a blogger, not a lot of capital to outsource it completely easy to make is Infographic happy with the support of two tools:
I personally prefer Easel. ly more Visual.ly .Because It is very simple to use, you can fix content on Easel.ly . You just chose this image you  like and fix it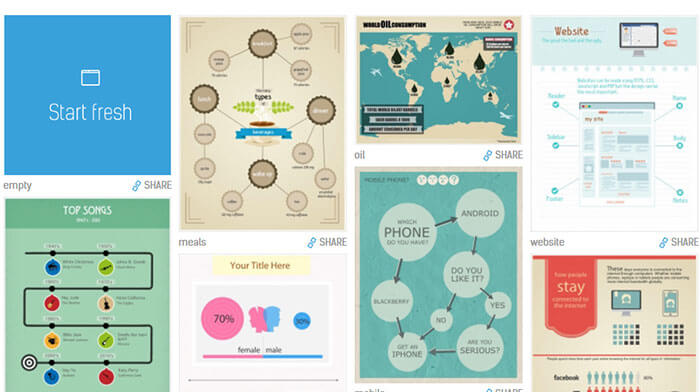 3.Tool spread content and advertising content.
Buffer
Buffer is sharing tools and great scheduling on social networking, content help reach customers faster and more efficiently. Here are the panel of Buffer.
Choosing the right time online social networks of people most effectively brings the highest interaction. You have to understand that time object, online age and to write what most meet that audience. Buffers can help you understand, given the statistics and automatically route your design. Also you can set the schedule time post in certain and add the option to publish by each channel has its own audience and uptime of its own thanks to all the social network accounts are connected together as in Fig. For example, Facebook is 10.am and 8.pm primetime .. All what you need to do is write the section on social media and download them to Buffer, choose when you want to send and you're finished .
Sumome
Sumome is a plugin for creating nodes share articles on social networks . It is used a lot by the blogger, webmaster
All of tool above , I hope you have find some usefull tool for you. Thank you for watching :))