Page loading speed is an important part of building a website. If your site loads slower than 10 seconds, even if your content has quality and good seo, you still lose visitors.
This is a big problem for affiliate marketers or business owners online, because traffic = money.
That is why I wrote this article
I'm not a developer or coder. Build Website I know, but the optimum issues related to  source code and server are quite poor.So I just recommend you some ways in my experience
1. Select the hosting / server good quality.
The hosting provider, server has a lot of , good quality, not good also. I encourage you buy a hosting from service providers hosting the prestigious world such as Godaddy, A2Hosting, Stablehost, …You can find many coupon discount at these providers hosting
Godaddy: I used this hosting for my mini site for pretty cheap price. They have many coupon discount monthly. About quality is not equal to the share premium hosts but still a good choice for the beginner.
A2hosting: A2 is Shared Host my favorite, about the average cost it more expensive in terms renewed for next year ($ 131.2 / year) than Hostgator or Stablehost but packs swift it is quality, you buy first year $ 67 without coupon and get a free domain
Stablehost, Hostgator: mid-range host package, better than Godaddy , but not good by A2hosting a bit . Still a good option for you to start buying as websites and assured of the quality and stability.
You should choose server near traffic access place
2. Using themes optimized for speed .
If you are in the workout phase blogging, you should use one of 2 providers: Genesis (including Genesis Theme Framework and the Child comes of it), and Mythemeshop.
3. Not install many plugin
They will made your site loading slowly . So How many plugin you need to install for your site?I think 10 is enough . This is a list 10 plugin I think you  need to your site .
Yoast SEO 
Broken link checker
Google Analytics Dashboard for WP
Contact Form 7
W3 Total Cache

EWWW Image Optimizer
SumoMe 
BackupBuddy
Duplicator
iThemes Security
4.Remove unused plugins
If you installed some plugins without use, please deactive plugins and then delete it completely from the database of the website. Because they still occupy a certain space in the data and have the ability to affect the loading speed of the website or page admin area.
To deactive and remove the plugin, then you into Plugin => Installed plugin will see a list of the plugins you have installed, where you can perform tasks to disable and remove the plug easily.
Or  if you accidentally install one plugin that somehow it affects access the admin area, making it impossible to enter this area (white error page or other error display), so you can not on plugins to manipulate items. So to clear a new plugin installed, you should go to the settings on the WordPress hosting or server:
In hosting: Cpanel -> File Manager -> choose the correct site to be deleted -> wp-includes -> plugins-> and expunged the plugin folder that you do not need to spend.
On the server, you use SSH to connect Bitvise, then navigate to your WordPress installation directory, in wp-includes, and do the same as above
4. Use excerpts / collapse.
if you do not customize the default WordPress will display the entire article text + images in all out homepage (Homepage) and storage site (Archives Page). This will make the Homepage, Page Tags, Categories Archives Page and other pages load very slowly and you were dropped on your site user experience significantly.
Depending on the Themes that you are using will have a place for your custom Themes Options Post Excerpts display section at will. With General Setting, you can go to Settings -> Reading -> Full Text Summary instead.
5. No music or videos upload directly to the host.
To your post videos that you want readers to see, you can upload it directly to the website through the Add Media, and it will be displayed as HTML5. But the question arises: Why are you up to the host when available on a lot of platforms up to music, video, such as YouTube, Vimeo, …?
When a direct upload of your site is easy to encounter one of these problems:
+ Up does not work, host overload alarm, video size too big.
+ Up is a video, complete package always hosts run out of space.
+ Error Video not displayed due to problems with certain formats of download and upload video directly host.
Youtube is first platform created by Google specifically for video up, and there is support for your ZIP code embed embedded frame very easy wordpress editor. There are several options for you to do this:
Support responsive video shortcode
Just select shortcode it will display room for you to paste the video URL link Youtube / Vimeo / Dailymotion, you copy and paste the URL .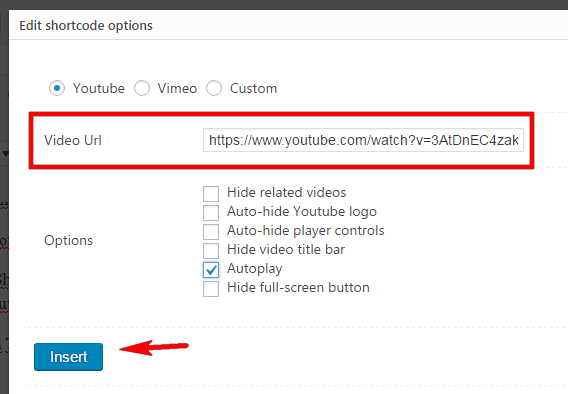 Using Youtube embed code:
This way, you do not need to install anything extra, just go to Youtube, the Video you're put on the website, select Share => Embed code back frame and copy editor on WordPress posts => Open Text through the tab (instead Visual) then paste the embed code paste it into the finish.
Furthermore you can customize video frame size found: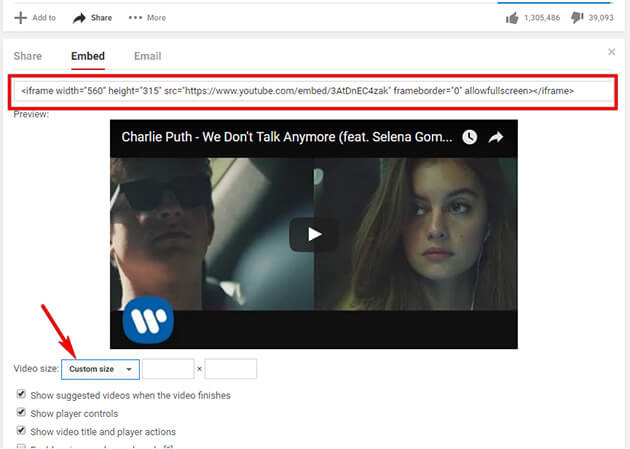 6. Using cache plugin
Using caching helps increase page loading speed of your website. It works by keeping a cache for the traffic already on your site, thus helping to speed page load times for the following access much more quickly.
The Cache plugins recommended that:
7. Optimize your images properly.
If you're uploading photos directly onto high capacity, it will be vulnerable to the article host down time and with large size images, while users to access, download speeds will be very long page affecting experience. In this case, there is a lot you encounter new people, because most of them get found online photo and insert into posts that do not pay any attention to that image heavy, how much size.
Optimize images for the Web in Photoshop
+ Always Resize image size before uploading. Using Photoshop -> Open the image -> Image -> Image Size -> and select the image width sized to fit the width of your website. (Usually to their pages from 700-1000px option). Many of you do not do this step to big up a few thousand, but it also indicates whether it is big enough display on your website only, so this step will help you resize decent size reduction down photo
+ Step 2: Optimize space in Photoshop: After resizing, choose File -> Save For Web -> Quality 70-80 is stable and JPEG images up to give it lightly. After optimum picture with Photoshop then your photo can reach capacity approximately 100kB back is fine and you can save and use to edit photos uploaded via website
Using compression plugin photo / image compression services.
If you do not want to optimize such handmade crafts, you can use compression plugin, but I still prefer to use than Photoshop, choose which one depending your
Compression plugin now has a very good variety, is the most common and WP Smush Kraken. With Kraken, you may not need to spend money to buy, you can use the free compression of the Kraken here: https://kraken.io/web-interface
When using the free, you will not get features Resize image (this feature alone has shown how by PTS then you do not need to spend money for it), but you are comfortable using image compression features -> Lossy is the its recommended.
Conclusion
All of ways above , I did and successful so I hope you can success with them .Thank you for watching